This article was originally written for and published at Neon Dystopia on January 9th, 2018 It has been posted here for safe keeping.
Of all the cyberpunk magazines I've ever come across, Future Sex is definitely the strangest. From the cover of the first issue, you know immediately that you haven't seen anything quite like this before. A naked brunette with headlines screaming "Electronic Masturbation," and "3D Digital Orgasms: Virtual Reality Sex," all imposed over a candy-colored gradient background. Make no mistake, when you peel open the pages of this magazine, you're going to get porn. Lot's of porn— with several photo spreads and articles featuring not-so-modest coeds in each issue. But in the sea of smut, phone sex hotline advertisements, and good old-fashioned sex on CD-ROM lies a stockpile of futurist, sex-positive cyberpunk journalism. With articles on teledildonics and smart aphrodisiacs, Future Sex was covering subjects formerly delegated to the dark corners of the 'net. Now, you could buy it all for $4.95 off of the newsstand.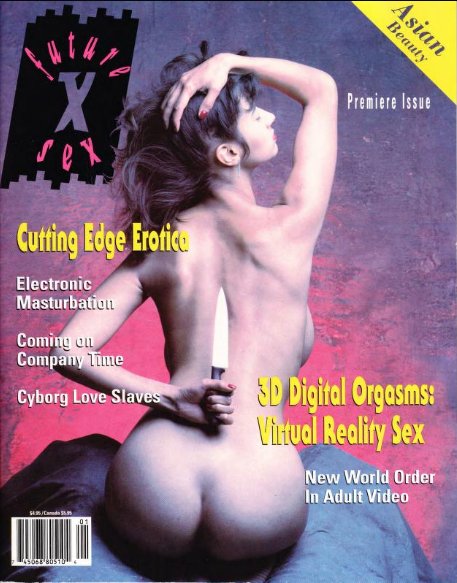 I bought my first issue of Future Sex in 2013 or 2014, decades after the magazine folded. It was most likely on eBay, though I have no idea how I was originally made aware of its existence. Shortly after receiving the issue in the mail, I made a quick scan of it and uploaded it to the Internet Archive before sharing a link online. At this point, I only had the fifth issue of the magazine but found the premise of it utterly fascinating. I couldn't believe that something like this existed, and part of me still can't.
Over the next few years, I collected a few more issues piece by piece but never thought much of it until I was contacted by Kyle Machulis, aka qDot, in 2016. For those who don't know (much like me at the time), Kyle Machulis is something of a celebrity in the world of DIY sex toys and sex technology, running projects like Metafetish (formerly Slashdong) and buttplug.io. We became friendly over the topic of Future Sex and embarked on a project where we would track down every issue of the magazine to then scan and upload to the Internet Archive for everyone to read. With both of us getting magazine shipments and rapidly performing scans, we quickly completed the project after a few months and received coverage from VICE Media's MOTHERBOARD and SexTechGuide. Speaking with Machulis about how he first found out about Future Sex, he revealed a much longer relationship with the publication:
I remembered seeing ads for it in the back of magazines (like Mondo 2000 and others) I was reading around the time it was published. I was at the horribly impressionable age of 13-14, so of course it stuck.

Some of the images from it, especially the Virtual Sex hardware layout, kept coming up over and over again, in articles about the future of tech, memes, things like that. That's what got me thinking about it again 20-some years later. Since I'd gone from being confused-and-online teen to confused-and-online-and-sex-tech-website-running adult, it seemed relevant to dig it up again.
As great as it was to achieve a complete archive of Future Sex, there is still a lot unknown about it. The magazine was relegated to the dustbin of history, and many stories of its short life went with it. At the beginning of the 1990s, San Francisco was a hotspot for technology, as well as sex. It was where you went if you were weird and had off-beat interests— or kinks. "The early '90s were a formative time for the Internet we know today, and I wanted to help in making sure that history was archived properly," Machulis reflects, "While Future Sex would look fairly mild compared to the range of content available today, there was certainly some groundbreaking stuff in it at the time."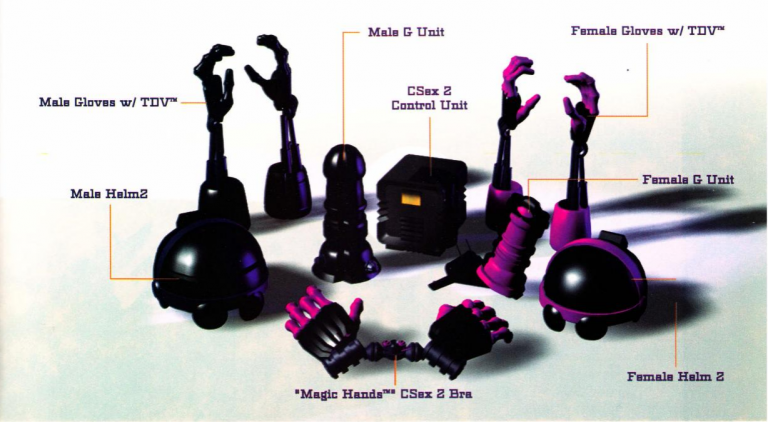 Future Sex was started in 1992 and driven by Lisa Palac, a former film student, and senior editor at On Our Backs (1985) lesbian magazine, helmed by Susie Bright. Palac wasn't always into such suggestive work. She was originally an anti-porn activist, though she ultimately changed her views as she began to question her Catholic upbringing and investigate the various taboos around sex and sexuality. While in school, Palac would go on to create erotic films, and even publish her own sex-themed pornographic zine before entering the literary world. As the cyber ethos spread through the Bay Area, it eventually hit Palac in a world-changing way.
Journalist Jack Boulware, founder of satirical magazine The Nose (1988), shared an office with Future Sex in the early '90s. Boulware claims that Future Sex was originally helmed by novelist, and godfather of cyberpunk, John Shirley before he was replaced with Palac by Kundalini Publishing after the first issue. While the masthead of the premier issue lists Shirley as a contributing editor, Palac receives top billing as Editor, and her words are the first you read as you are introduced to the publication. The staff of this issue reads like a list of guests you might find milling about a Mondo 2000 party at 3AM: Gracie, Richard Kadrey, St. Jude Milhon, and Bart Nagel to name a few. The familiar names make for a comfortable first issue of any publication— as long as your level of comfort was smart drugs and anarcho-leaning techno-counterculture.
Between the high-tech sex talk and multiple photo spreads, the sex-positive, feminist ideals of Palac are at the forefront. This isn't your normal porno rag aimed at men, nor is it entirely aimed at women; it hits a more general group of sexual beings, poised to look towards the future of sexuality and new ways to get off. Palac is blunt, sarcastic, and snarky, but she's honest about what she wants and where she sees things going in the world of sex. The next few issues showed refinements in layout and design as the magazine hit its stride. Content boomed with articles on cybersex, teledildonics, high-tech sex toys, and everything in between. Interviews with cyberculture personalities like William Gibson and R.U. Sirius lined the pages, along with discussions of the latest BBS or Usenet group to check out and meet like-minded individuals.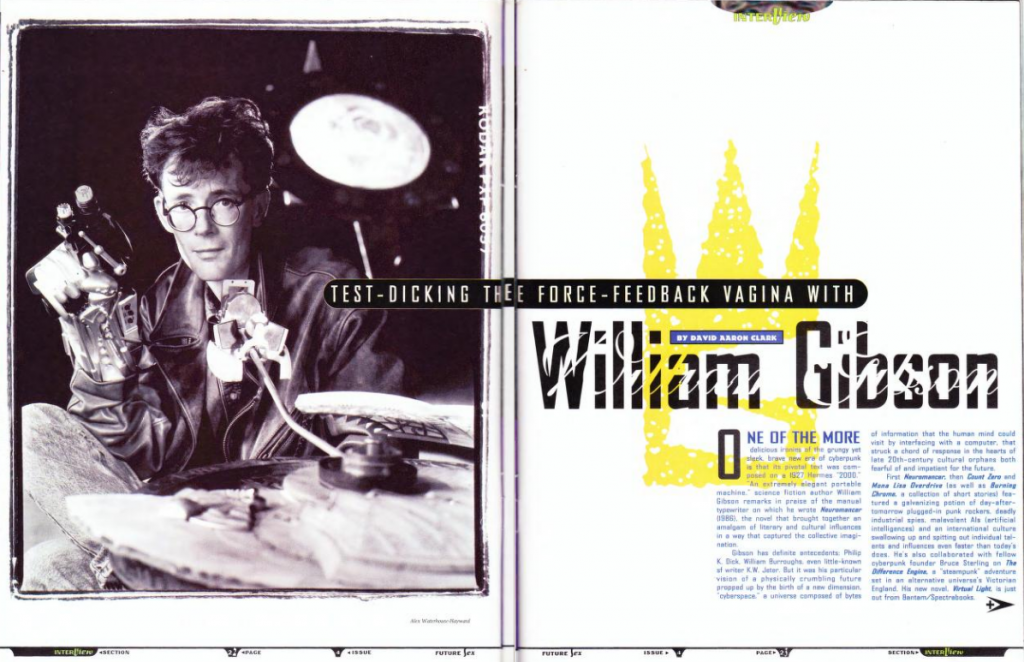 In a lot of Future Sex articles, the technology seems alien. We bounce back and forth between industrial-looking equipment that would feel familiar in a 1970's wood-paneled den, as well as more Cronenberg-esque devices like the CyberSM, which, well… you just sort of have to see for yourself. The virtual sex and teledildonic wet dreams of Ted Nelson and Howard Rhinegold never seemed more real. With models clad in leather, latex, steel, and chrome, we received a salty taste of what the next frontier in sex could offer us in the not-so-distant future.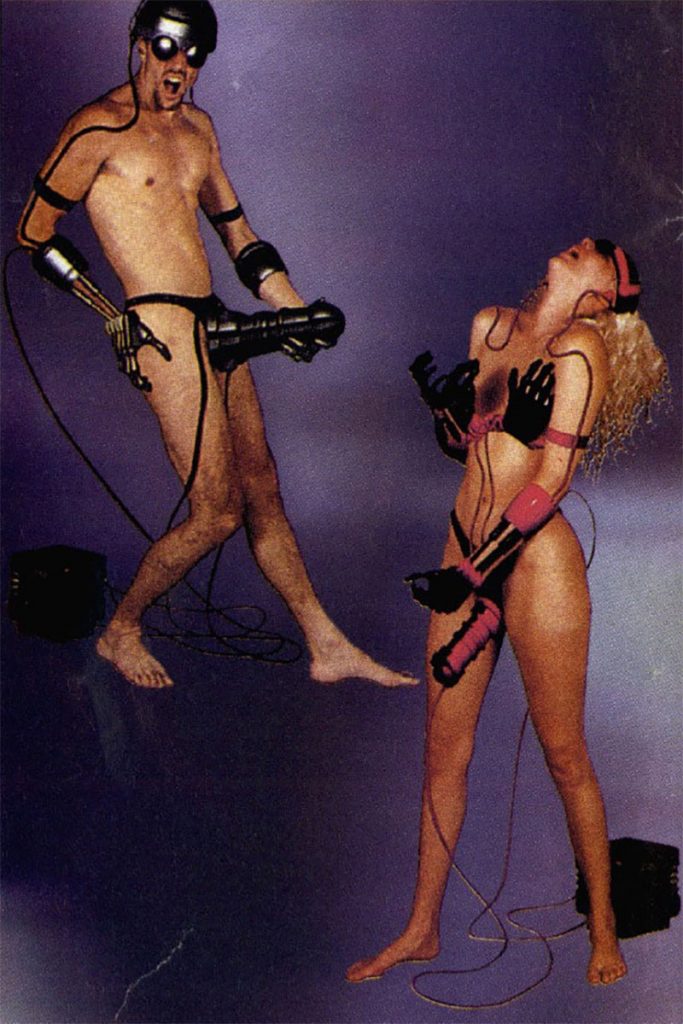 With page upon page of advertisements for sex software, expensive bulletin board access, and phone hotlines, you never forgot you were reading a pornographic magazine. Even Future Sex itself advertised all of the different credit cards it could accept for subscription via a full-color banner in the first issue. Though Future Sex had seemed to target all genders and sexual orientations, the advertisements felt old-fashioned and predictable, almost exclusively aimed at heterosexual males.
Future Sex wasn't seen as a success by everyone. Carla Sinclair, then-editor of bOING bOING, critiqued the first issue, wishing that the publication would do a better job of melding sex and future tech together. While we do get a dose of sex technology in many articles, there are still articles that are clearly about sex or future tech, but not with one another. Sinclair further pondered if there was enough material to squeeze out of high technology being infused with the primitive, basic act of sex, something she saw as two opposites. While issues regularly featured high-tech sex articles, they came out in less and less of a trickle, eventually getting more flaccid over the life of the publication.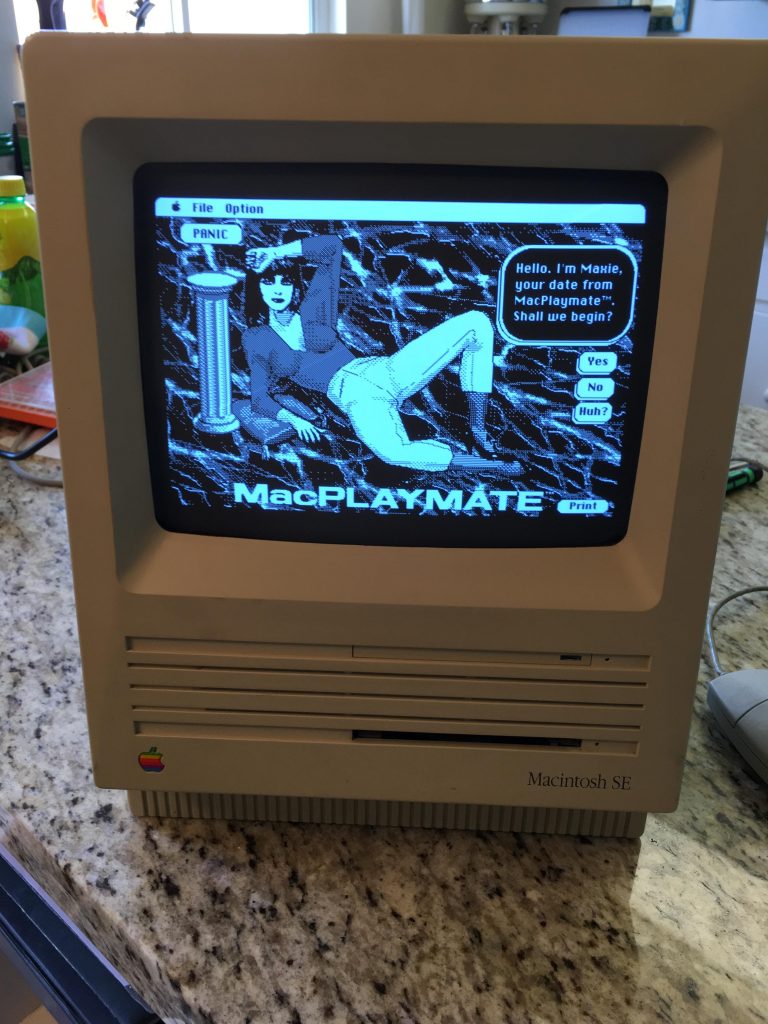 By the end of the magazine's run, articles seemed to focus less on our cyber-future and more on the general, alternative-sex scene. Future Sex ended its run in 1994 with a mere seven issues. Issue 7 makes no mention of being the last, which undoubtedly left readers wondering what had happened when nothing arrived in their mailboxes. Internally, Palac was cutting her ties from the magazine, being replaced by writer Lily Burana. While Burana began work on an eighth issue, it was ultimately never released before the magazine shuddered.
Though Future Sex was no more, Palac's career was still on its way up. While at Future Sex, Palac was constantly bombarded for interviews or photoshoots about the hot new topic of cybersex. Between 1991 and 1993, she worked with Ron Gompertz to produce two Cyborgasm albums that used binaural audio technology in conjunction with erotic stories (Palac actually met Gompertz at Mondo 2000 party, and the two would later become briefly engaged). After Future Sex, Palac continued a career in journalism, and ultimately published a memoir The Edge of the Bed: How Dirty Pictures Changed My Life in 1997. Later, she would go into television, producing episodes of HBO's Taxicab Confessions from 1999 - 2001. She currently works as a therapist in Los Angeles, California. Other Future Sex alumni such as Richard Kadrey and Jack Boulware have continued to write for various publications, and also release their own books.
While Future Sex has long been out of print, it certainly hasn't aged gracefully. "I feel like the magazine is very much of its time, so a lot of the topics covered would really be seen as anachronistic today," Machulis suggests when asked if Future Sex is still relevant. "That said, a lot of internet users these days are stuck in between extremely dated views of sexuality and an online society constantly shoving the newest, latest thing at them. The best I hope for with the archive work done is to establish maybe a history that can be referenced for trying to bring people up to date."
As technology has grown and changed over the years, we see advancements in how it can impact and augment sex. Sex toys and related technologies like virtual reality have only become more sophisticated, and future of sex tech is continuing strongly. With pioneers like Machulis out there, it will likely continue to do so. When asked about the future of sex tech, Machulis has thoughts on that as well: "People are now getting so used to connected technology that the idea of remotely connected toys is becoming feasible to the mainstream, versus being the fever dream of tech nerds . . . we'll start seeing some really interesting things happen. The thing I've learned is that I can't predict what those things are, though. I was around through the Future Sex days and wouldn't really have considered the rise of social media and the sociological trends it has kicked off. The future of the early '90s underground tech magazines is the future I wanted and believed in, but certainly not the one we got wholesale."