I got a little restless while waiting for my Raspberry Pi to get here so I decided to mess around with a few other SOCs while I wait. I was drawn to the the concept of these "plug" devices that were something of a flash in the pan a few years ago. Do you remember the [SheevaPlug])http://en.wikipedia.org/wiki/SheevaPlug) or the GuruPlug? Anyway, for the absent minded or unacquainted, plug computers are tiny tiny servers that run on very low power. Why keep that bulky server around when you can plug a little box into the wall, tuck it away, and forget about it for a while?
Love them or hate them, plug computers are cool little pieces of technology that are highly hackable and a good way to spend an afternoon playing with. I decided to get a Pogoplug to mess around with, as they were inexpensive when compared to some of the other plugs. They're not the beefiest machines, but they're not meant to be. I found a coupon that allowed me to get one at 70% off, so I took the gamble. What I got was a little NAS (which wasn't very good at its job) with a dual core 700MHz processor and 128MB of RAM. You have to go through the hassle of registering your plug with their website to enable ssh access, but it only took five minutes and afterwards you can completely open up the hardware. With a 2GB flash drive and 20 minutes of my time, I installed Arch on my plug and then further configured it with web and IRC server software. Not bad for a cheap little box.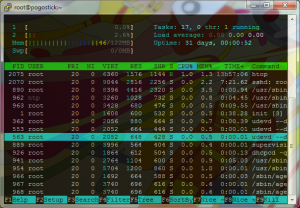 I liked the simplicity of hacking the plug and the potential it offered, so I went ahead and ordered two more.
Though the boxes have identical model numbers, the Pogoplugs I got in my second order were not the same. Apparently, my first plug was a v3, while my second two were v2s. What does that mean exactly? Pogoplugs use ARM processors. The v3 plug uses an ARMv6 while the v2 plugs use an ARMv5. So, slightly older processors but the v2s also happen to run at 1.2GHz and have 265MB of RAM. Can't complain there.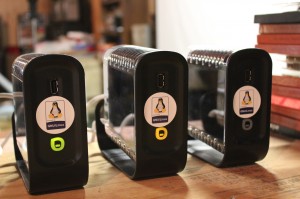 I found an old guide for installing Debian on a Pogoplug, and though it did not work, I followed a link to the site's forum and was able to talk with someone to help get me going. After a painless installation, I had a second hacked Pogoplug to keep my company. Now what about the third one? Haven't cracked into this one yet, but I have plans to try my luck with Fedora just for the variety.
What am I going to do with all these? I don't really know. An IRC network made from just Pogoplugs sounds like fun but is completely impracticable. Any ideas?