We've all seen panoramic photos. Some of us have even tried out hands at stitching to create our own from a few snapshots. Yeah, I'm late to the show with this, but Microsoft's Photosynth gives you the ability to create your own stitched photos, giving the illusion of a 3D space.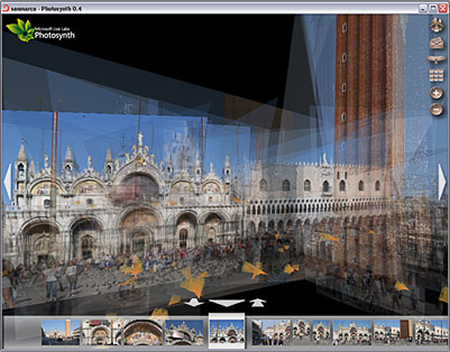 To start, one must take pictures, I took around 200 for my first synth. The best thing to do is to go stand in one place with a camera, and take pictures from that one stance, utilizing every angle. So you'll want a lot of little pictures which will all be combined to create a large one.
I proceeded to take these little pictures from several points. I used an enclosed room, so while it was hard to get the angles I wanted because of the walls, I did not have to worry about the environment changing. Photosynth relies on object textures when stitching the photos, so doing something like this outside can get a little troubling.
For my second, more complete synth, I took around 550 pictures total. The application recommends something around 300 max, but it will work with larger amounts. After dumping the pictures onto the computer, I pointed Photosynth at the directory and it went to work. That was it. For better or worse, the computer does all the assembling by itself. This can however take a long time. My 200 picture synth was just under 12 hours while my 550 picture synth was just over 30. Things will probably zip right by if you have a beefy editing box or something similar, but I had to wait longer than I would have imagined with my dated laptop running everything else I normally run in addition.
The finished product was decent however. Some things did not line up properly, some photos seemed to be omitted. It was a lot better than I expected, however. The majority of the stiching was flawless. I do have to say I was sad see that there didn't appear to be an option to edit already created synths. So if I ever wanted to add a few frames to complete a wall, or take one away that messed up the whole floor, I could only do that by starting the synth over. Not entirely sure how practical it is, but I consider it a nice little application that can create hours of enjoyment (or frustrations if you have a fidgity camera).
If you're lucky and have the plugin installed, the photosynth I created should load below.